NEWS
2020
We continue to work with our producer
partners to develop and deliver broadcast
programming for Public Televison locally and
nationally.

Treasures Inside the Museum

is a
local series currently in production and airs on
Rhode Island PBS.
Other new documentaries include

The Patriot
From Kings County

and a three part series
Where The River Meets The Sea.
2015 started with the broadcast premiere of
"Carved From Stone:Legacy of A Granite
Town" on Rhode Island PBS.
Ocean State Video is pleased to continue
working with the WWII Foundation having
completed production on 22 documentaries
for American Public Television.
Additionally we partnered with new producers
creating documentaries on Austin T. Levy and
another on the history of Architecture in
Providence.
2014 began with the broadcast premiere of
our Watch Hill documentary. In May and June
we went back to Normanady, France for the
70th Anniversary of the D-Day Invasion to
shoot "Omaha Beach: Honor and Sacrifice"
and in December we travelled to Luxembourg
to shoot "The American St. Nick".
2013 brought us to Hawaii and the Philppines
in April to shoot a documentary about an
amazing escape from a POW camp in WWII
and how it changed the war. "4-4-43"
premiered in Texas in November. In
September we went to Belgium with the
daughter of a WWII pilot to follow her as she
met some of the people who helped her
father to escape capture after his plane was
shot down. "Above and Beyond" is scheduled
for release in 2014.
In April of 2012 we returned to Auschwitz in
Poland with a survivor of that horrific
concentration camp. "A Promise to My
Father" is now running nationally on PBS
stations. In June we traveled to Normandy for
the anniversary of D-Day and the dedication
of a new statue honoring leadership. On that
same trip we also filmed for another WWII
documentary about 2 medics who set up
camp in a small village church and treated
both American and German wounded. "Dick
Winters: Hang Tough" and "Eagles of Mercy"
are now both airing on PBS stations around
the country. Throughout the year we filmed
Waterfire events for a television special and
DVD. We are also working to expand the
broadcast reach of "Covered Bridges of New
England".
RIPBS aired our covered bridge documentary
in the first quarter of 2011. In May, we
followed WWII vet James "Maggie" Megellas
back to Europe and followed his footsteps
through France, Belgium, Holland and all the
way to Berlin, Germany. We finished the year
with the completion and premiere of another
doc based on the Museum of WWII in Natick,
MA., narrated by Dan Aykroyd.
In 2010 Ocean State Video was honored with
2 more Emmy Awards for our work on "Navy
Heroes of Normandy" and "When the Red's
Rules the Roost". "Covered Bridges of New
England" saw it's broadcast premiere in
December on WGBH in Boston and WGBY in
Springfield.
In 2009, Ocean State Video was nominated
for 3 Emmy Awards. Two for our documentary
"Teens on a Mission" and a third for "The
Impact of Your Choice". We continue to shoot
most of our projects in High Definition,
including a documentary recently released on
breast cancer, a documentary about a camp
for children with cancer and another about
Lighthouse Keeper Ida Lewis. We are also in
the early stages of our 3rd documentary
project for Johnson & Wales University.
DVD's of "When the REDS Ruled the Roost"
are now available from rocjo.com. Have you
seen the trailer for the Warwick Musical
Theatre? We are working on that project too.
"Navy Heroes of Normandy", our most recent
D-Day doc will start playing in France on June
6th, the 65th anniversary of the invasion.
2008 was a success. We acquired a
Panasonic HPX500 P2HD camera enabling
us to shoot more High Definition today and
into the future. We completed a documentary
following local students on a mission to
Jamaica and another documentary that
followed the creation of a memorial dedicated
to the Navy service on D-Day. This premiered
in New Orleans at the World War II museum
on November 14th and is now available on
DVD.
Ocean State Video's "D-Day + 62 Years" has
been honored with 2 Emmy Awards. The
documentary received an Emmy for "Best
Program Photography" and producer/writer
Tim Gray received an Emmy for writing.
These men sit down and tell their stories,
some for the first time ever and followed a
group of veterans back to beaches in
Normandy.
In 2007 our documentary "D-Day: The Price
of Freedom" aired nationally on PBS. HD
Production is underway on a documentary on
the history of Diners. We completed
production on a second documentary about
Johnson & Wales University and an
educational documentary about DWI titled:
"The Impact of Your Choice". Both are slated
to air soon on PBS. We are shooting a
moving story of faith and adversity at a
Church in Jamaica Plain. This project is being
produced in High Definition.
For the third year in a row, we have provided
a development video for Our Lady Of Fatima
Hospital. Other 2007 projects include: a
recruitment video for St. Michael's College
Fire & Rescue, development videos for a new
Temple in East Greenwich and A Wish Come
True.
The Emmy nominated documentary "Rhode
Island's Historic Lighthouses" continues to air
on RIPBS. A world premiere was held at Jane
Pickens Theater in Newport in July of 2005.
The 47 minute film plus bonus material is now
available on DVD from the Rose Island
Lighthouse Foundation, the Beavertail
Lighthouse Museum in Jamestown, Ida Lewis
Yacht Club in Newport, the visitor center at
Slator Mill in Pawtucket, from RIPBS and
other Lighthouse groups in the area. Anyone
interested in obtaining copies for retail can
contact Jim@oceanstatetvideo.com .
In January 2003 we traveled to Morocco and
Egypt to shoot 2 documentaries for PBS. The
programs were produced by The Visionaries
and feature the work of the Near East
Foundation. The 2 - 30 minute documentaries
aired on PBS stations around the country.
The trip included a visit to the pyramids in
Giza, climbing to the top of one of the oldest
mosques in Cairo, a day in Marrakech, work
in the beautiful but harsh Atlas mountains of
Morocco and meeting many interesting
people from some very different cultures.
Ocean State Video recently completed
projects for The Greater Providence
Chamber, Cowan Plastics, Ocean Tides,
Lifespan, Women & Infants' Hospital, Kent
Hospital, The Tomorrow Fund, The Prout
School, The Rhode Island Philharmonic,
Olneyville Community Schools, and a Six
SIGMA video for Textron. We recently
produced a new image video for Memorial
Hospital, two educational shows for the
Annenberg Institute, a Best Practices video
for TFC Textron, a development video for The
American Heart Association and a product
demonstration tape for the American
International Tool, Paint Shaver. Ocean State
Video also completed 4 Community Service
Learning videos for Johnson & Wales
University.

Returning to Auschwitz
We travel with the WWII Foundation around
the world bringing veterans back to battlefields
they fought in during World War II. By far the
most emotional trip was in 2012 returning to
Auschwitz with holocaust survivor Izzy
Arbeiter. It was an honor to walk through the
concentration camp with him as he recalled so
many memories of the horror he witnessed
there.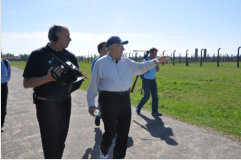 Assignment PWCVB
Ocean State Video is please to have been
selected by the PWCVB to create videos that
promote tourism in the Providence Warwick
area. We live in a beautiful part of the planet
and it's been great to capture and share that
with the world. Click on this picture to check
out the video for yourself.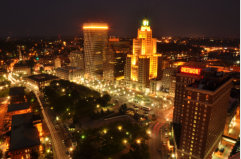 Everyone has a story to tell.
Share yours with the world.
Your audience is waiting.
We're ready to help.